news
4zerobox: the ESP32-based Industrial Toolkit for IoT Solution Providers
Shanghai, China
Dec 4, 2017
4zerobox is a modular electronic unit that is easy-to-configure at both hardware and software levels. It allows data-capture and processing without the need of a PLC!
The digitization of industrial processes, also known as Industry 4.0 incorporates the IoT as a core capability. This provides ample opportunity of innovation for small and large enterprises. However, such obstacles as the inaccessibility of Programmable-Logic-Controller code (PLC) and IoT gateways of low capability hinder the full-on digitization of industrial environments. The Italian start-up TOI aims to tackle this issue by putting forward the ESP32-based 4zerobox, a tool that bridges the gap between IoT and industrial PLCs.
4zerobox is an easy-to-configure and easy-to-program modular hardware electronic unit. It is perfectly suited for data acquisition and processing from existing systems, while it is fully compatible with hundreds of standard sensors. Furthermore, it allows the digitization of existing industrial assets without installing a PLC. 4zerobox is ideal for applications in manufacturing, smart retail, logistics, home automation, smart cities and all market sectors where IoT is a core element.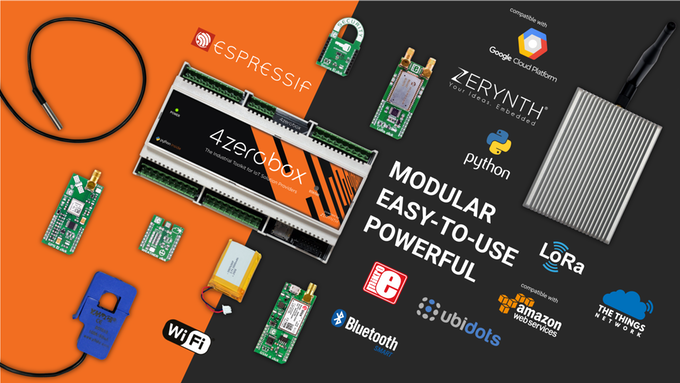 Photo source: 4zerobox on Kickstarter
4zerobox is based on ESP32, a system-on-a-chip by Espressif Systems that features two 240MHz cores, a 4Mb Flash and a 312KB RAM. It can be programmed in two languages, Python and C. Moreover, ESP32 reduces communication stack overhead on the main application processor, while interfacing with other systems. Thus, it provides Wi-Fi and dual-mode Bluetooth, Classical and Low-Energy, functionality through its SPI / SDIO or I2C / UART interfaces.
Daniele Mazzei, Technical Manager of TOI, explains: "The Internet of Things is revolutionizing the way businesses are managed, and we believe that 4zerobox can help small and big businesses plunge into Industry 4.0." On this note, cloud and web programmers new to IoT should also be aware that 4zerobox hardware devices and sensor networks can be coded with Python, which allows hassle-free development.
If you want to learn more about 4zerobox and/or support the project, you can do so by checking the project's campaign on Kickstarter. Initial units are expected to ship in February of 2018.
News

Gartner's 2018 report says: "Espressif has grown beyond our expectations, and it is clearly maturing as a mainstream vendor".

News

New powerful WiFi+BT/BLE module to hit the market soon.

News

The event took place in San Francisco and was attended by an enthusiastic audience of embedded engineers, firmware developers and cloud developers.