news
ESP32-PICO-KIT Design Contest by Elektor and Espressif
Shanghai, China
Dec 4, 2017
Espressif Systems and Elektor International Media have teamed up to organize an international competition focused on ESP32-PICO-KIT.
ESP32-PICO-KIT has already been dubbed "a potential Arduino killer". Materializing what this statement claims was never our intention, but we are really proud of our new product and we want the world to know more about it. So, last month in Munich, at this year's highly successful "produtronica", the international trade fair for electronics manufacturing, Espressif Systems came to an important agreement with Elektor International Media. On the one hand, the two companies decided to form a strategic media partnership. On the other hand, it was agreed that the two companies will organise an electronics design contest focused on creating new applications for ESP32-PICO-KIT.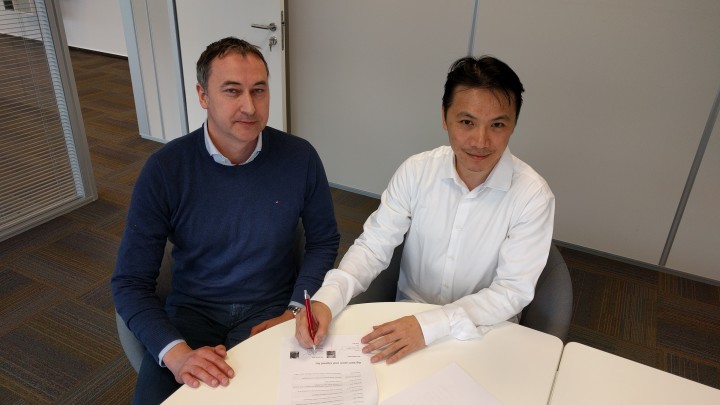 Espressif Systems' Founder and CEO Teo Swee Ann together with the Elektor publisher Ferdinand te Walvaart. Photo source: Elektor
ESP32-PICO-KIT is a mini development board based on a module produced by Espressif Systems, the ESP32-PICO-D4 SiP (System-in-a-Package). To enable easy interfacing, all the IO signals and system power on ESP32-PICO-D4 are led out through two 20 × 0.1" pitch header pads on both sides of the development board. To make the ESP32-PICO-KIT fit onto mini breadboards, the header pads are populated with two rows of 17-pin headers. The remaining 2 × 3 pads grouped on each side of the board, next to the antenna, are not populated. The additional 2 × 3 pin headers can be soldered by the user, if it is deemed necessary. The development board integrates a USB-UART bridge circuit, allowing the developers to connect the board to a PC's USB port for downloading and debugging.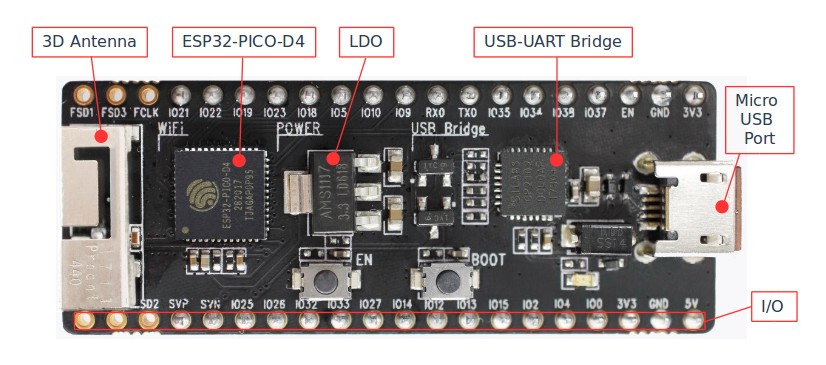 ESP32-PICO-KIT
Details about the contest have yet to be announced. It is expected, though, that the contest will be launched in early 2018. After the initial submission of ideas from prospective participants, the finalists will be selected by a panel of experts from Espressif and Elektor Labs. Then, Elektor will dispatch the ESP32-PICO-KIT to all selected participants, so they can bring their proposed projects to life.
Stay tuned, then, for more details soon! In the meantime, we strongly recommend that you take a close look at our ESP32-PICO-KIT documentation here and here. Start brainstorming now and get yourselves prepared for a great competition!
News

Gartner's 2018 report says: "Espressif has grown beyond our expectations, and it is clearly maturing as a mainstream vendor".

News

New powerful WiFi+BT/BLE module to hit the market soon.

News

The event took place in San Francisco and was attended by an enthusiastic audience of embedded engineers, firmware developers and cloud developers.