news
Espressif Systems Integrated in Xiaomi's Plans for IoT Development
Beijing, China
Dec 5, 2017
Espressif Systems has offered the ESP32 technology to partner with Xiaomi, the world's largest smart-hardware platform.
In Xiaomi's recently-held IoT Developers Conference in Beijing (2017MIDC), the company presented its development in the Internet of Things, which started in 2014 with the strategy of 'smart home smart family'. Since then, Xiaomi has rolled out a complete set of communication protocols and has invested in numerous smart-hardware companies.
Espressif Systems is, of course, one of them. In 2016 our collaboration with Xiaomi started, as they decided to include our powerful ESP8266 in the chips they use for their IoT solutions. At that time, Mr Gao Ziguang, in charge of Xiaomi's Mi Smart Home, said: "Espressif's products feature high performance, minimum peripherals, simple design, and low cost. They are even better than those made by some excellent foreign companies. All these qualities make Espressif Systems unique in the domestic market."
From 2017 onwards Xiaomi primarily uses our flagship chip ESP32. In fact, Xiaomi unveiled their own ESP32-based development board, module and software development kit at their IoT Developers Conference last month. On this occasion, Zhang Yanlu, Technical Director of Xiaomi's IoT Business Unit, embraced Espressif Systems by saying:
"Great value for money has always been Xiaomi's utmost priority. And this is exactly what Espressif delivers with its amazing, yet affordable IoT solutions."
"Espressif Systems offers for free all of its SDKs on GitHub, where it has attracted a very active community of users. This strategy is very appealing to us at Xiaomi, as we now embark on developing our own open-source IoT platform."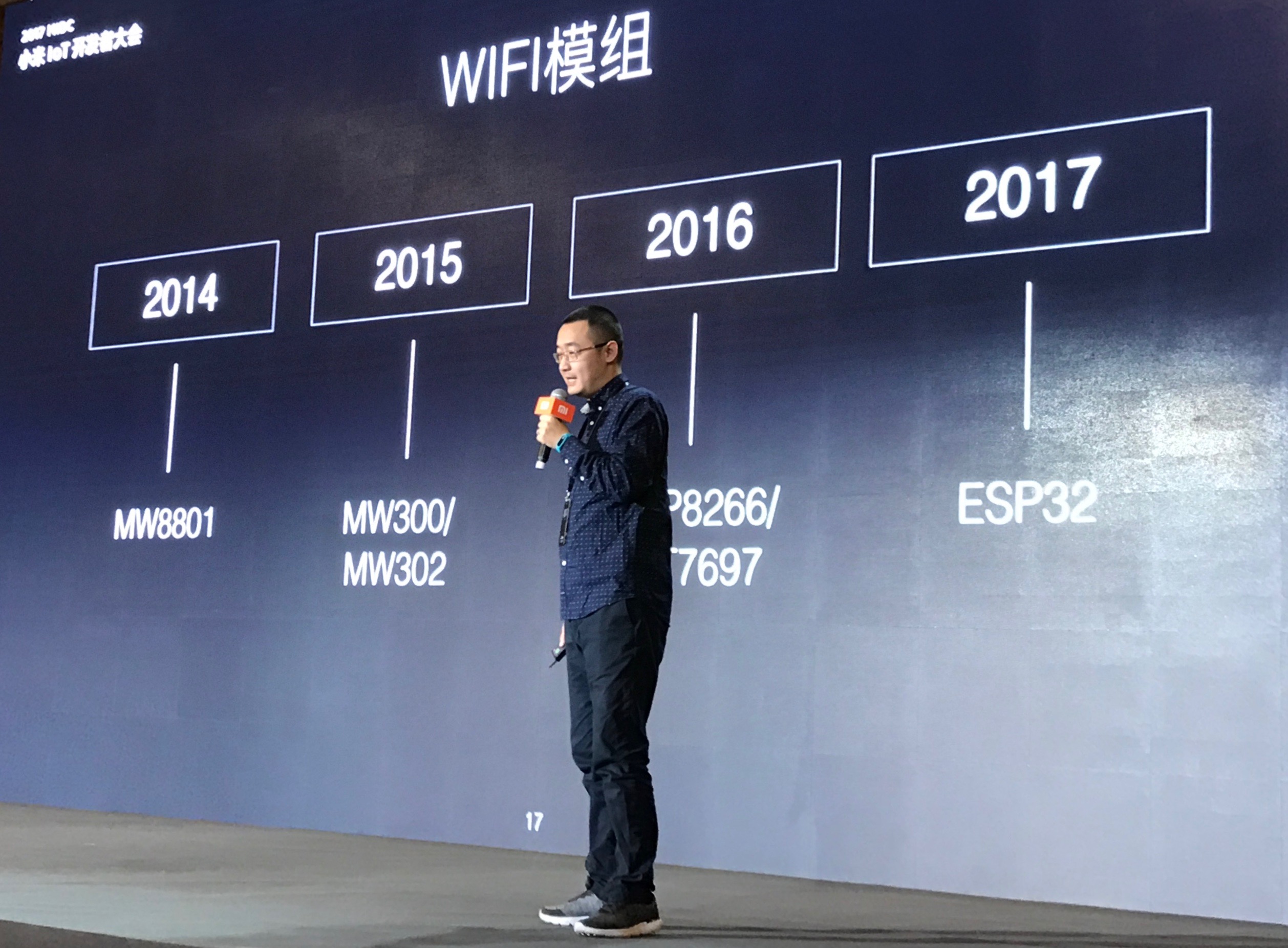 Mr Zhang Yanlu, Technical Director of Xiaomi's IoT Business Unit, at the recent 2017MIDC
Since Xiaomi's break into the IoT industry in 2014, the company has achieved to build an IoT platform that consists of more than 800 access equipment and 400 collaborating partners. Additionally, Xiaomi's IoT platform is currently connected to a total of 85 million IoT-enabled devices, with over 10 million active devices on a daily basis. This makes Xiaomi the world's biggest smart-hardware platform, as Mr Lei Jun, Xiaomi's founder and CEO, said at the 2017MIDC.
At the same event, Mr Lei Jun announced the launch of the second phase of Xiaomi's IoT strategic plan: a completely open IoT developer program which aims to enable fast and secure connection of third-party smart devices to Xiaomi's IoT platform. Under the program, third-party collaborating partners will be able to access Xiaomi apps, retail channels, AI cloud and big data, while also realizing mutual control on the same platform.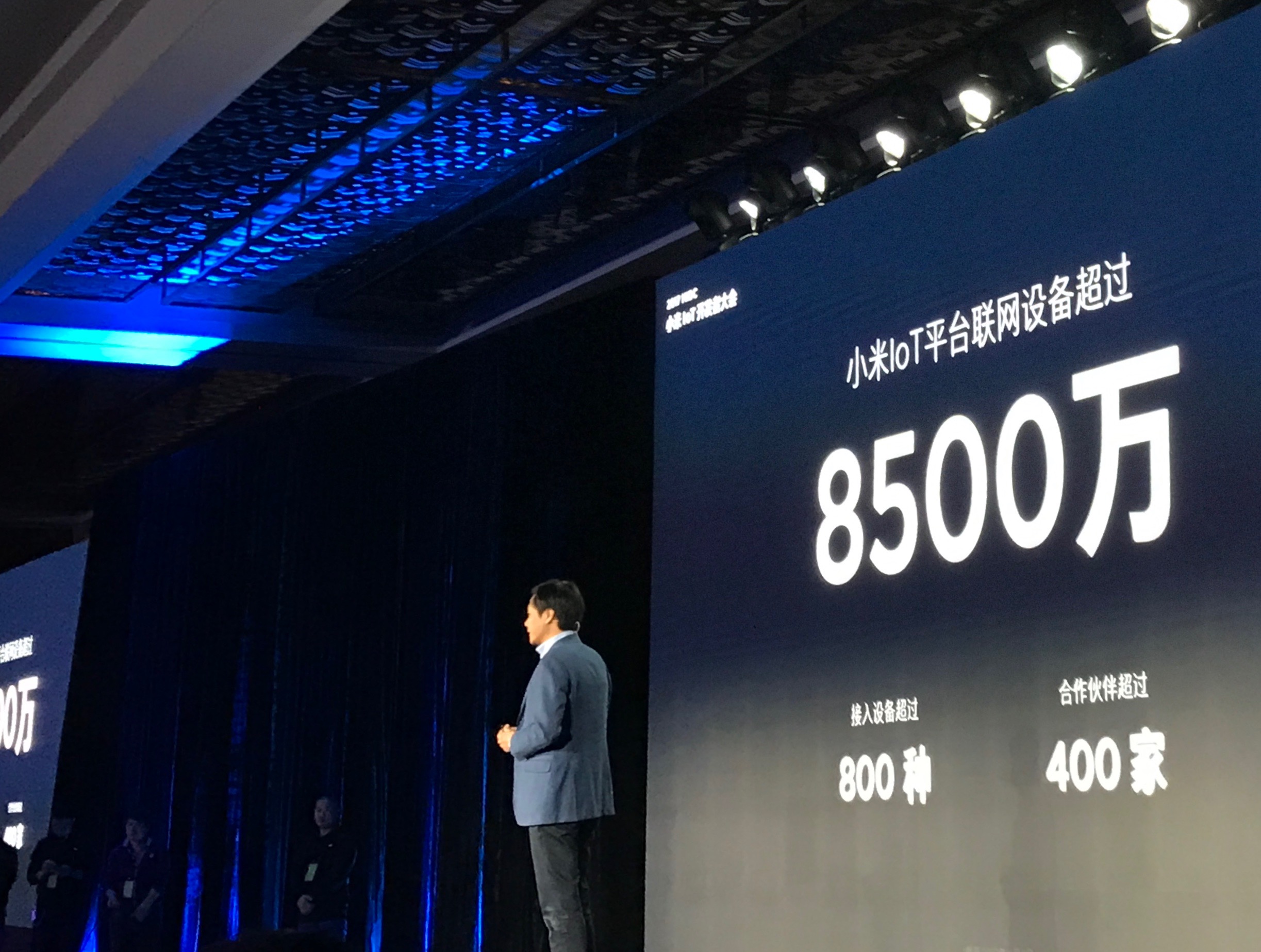 Mr Lei Jun, CEO and Founder of Xiaomi, on stage at the recent 2017MIDC
This will be supported by Xiaomi's recent deal with Baidu, the ultimate objective of which is to develop an integrated IoT+AI ecosystem in China. This hardware-software integrated ecosystem will be established by leveraging Xiaomi's application scenarios, smart hardware devices, big data and Baidu's AI technology, mass data, knowledge maps and information services.
Espressif Systems is proud to be part of this ambitious program by offering the advantages of the innovative ESP32 technology.

Xiaomi's Ecosystem and their ESP32-based dev board
News

Gartner's 2018 report says: "Espressif has grown beyond our expectations, and it is clearly maturing as a mainstream vendor".

News

New powerful WiFi+BT/BLE module to hit the market soon.

News

The event took place in San Francisco and was attended by an enthusiastic audience of embedded engineers, firmware developers and cloud developers.