news
Look Out for the New ESP32-Sense Kit
Shanghai, China
Feb 5, 2018
Our new ESP32-Sense Kit is coming soon! Check out the details.
The ESP32-Sense Kit is a new touch-sensor development kit produced by Espressif Systems. It can be used for evaluating and developing the touch-sensing functionality of ESP32. The ESP32-Sense Kit consists of one motherboard and several daughterboards. The motherboard is made up of a display unit, a main control unit and a debug unit. The daughterboards can be used in different application scenarios, since the ESP32-Sense Kit supports a linear slider, a duplex slider, a wheel slider, matrix buttons, and spring buttons. Users can even design and add their own daughterboards for special use cases.
The picture below provides an overview of the ESP32-Sense Kit. The wheel slider, linear slider, duplex slider, motherboard, spring buttons, and matrix buttons, are shown in a clockwise direction.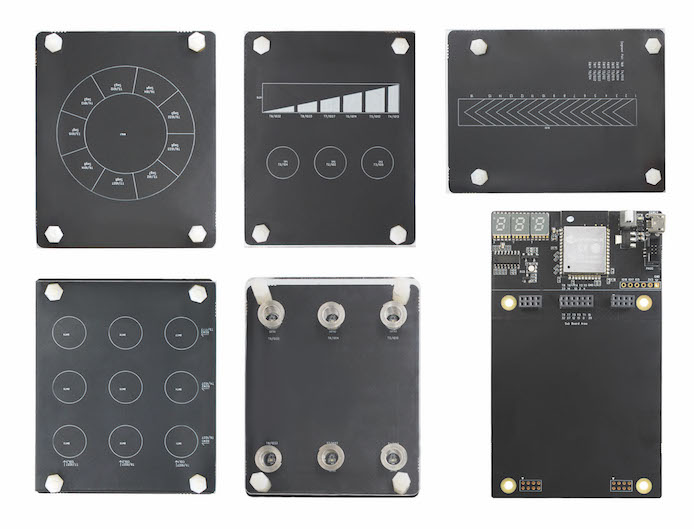 Chinese readers can find a video introducing the ESP32-Sense Kit here. Our international readers can access the same video by clicking here.
Related Resources
Software Environment Set-up
Technical Support
Pre-sales Questions
News

Espressif emphatically states that the recent rumours about its acquisition by the Alibaba Group could not be further from reality.

News

Espressif's new ESP32-LyraT Dev Board and Audio Development Framework help users accelerate time to market and reduce the development cost of dual-mode (Wi-Fi+Bluetooth) audio solutions.

News

Mexico City is hosting the annual "Talent Land" event from April 2nd until 6th. If you attend the event, do not miss out on getting a limited-edition electronic badge based on ESP8266!