news
Look Out for the New ESP32-Sense Kit
Shanghai, China
Feb 5, 2018
Our new ESP32-Sense Kit is coming soon! Check out the details.
The ESP32-Sense Kit is a new touch-sensor development kit produced by Espressif Systems. It can be used for evaluating and developing the touch-sensing functionality of ESP32. The ESP32-Sense Kit consists of one motherboard and several daughterboards. The motherboard is made up of a display unit, a main control unit and a debug unit. The daughterboards can be used in different application scenarios, since the ESP32-Sense Kit supports a linear slider, a duplex slider, a wheel slider, matrix buttons, and spring buttons. Users can even design and add their own daughterboards for special use cases.
The picture below provides an overview of the ESP32-Sense Kit. The wheel slider, linear slider, duplex slider, motherboard, spring buttons, and matrix buttons, are shown in a clockwise direction.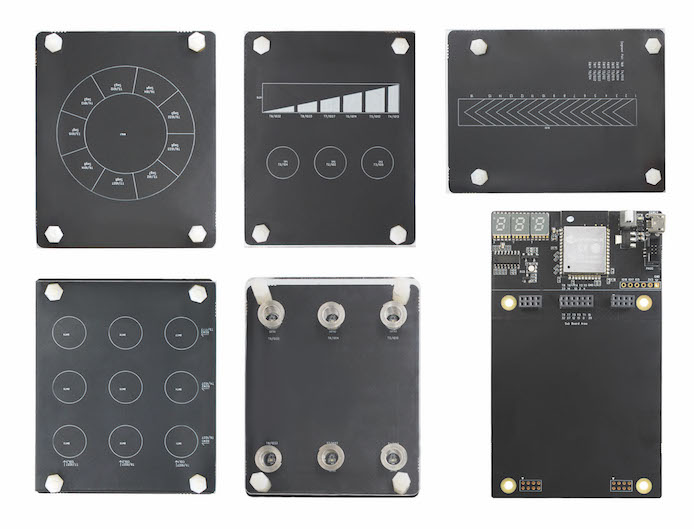 Chinese readers can find a video introducing the ESP32-Sense Kit here. Our international readers can access the same video by clicking here.
Related Resources
Software Environment Set-up
Technical Support
Pre-sales Questions
News

Espressif Systems and Amazon Web Services have brought the Amazon FreeRTOS-qualified ESP32 to the IoT market.

News

Espressif announced today that it has received investment co-led by Intel Capital and Beijing Singularity Power Investment Fund L.P. (SPC).

News

Our international ESP32 Design Contest, jointly organized with Elektor, yielded high quality entries which won awesome hardware prizes.