news
New Audio Development Board by Espressif
Shanghai, China
Feb 5, 2018
ESP32-LyraTD-MSC is our new audio development board, which supports voice recognition, near-field and far-field voice wake-up.
ESP32-LyraTD-MSC is based on a digital signal processor (DSP) with a three-microphone array for noise reduction, echo cancelation, voice recognition, etc., and ESP32-WROVER, which is an Espressif module combining Wi-Fi and dual-mode (Classic and Low Energy) Bluetooth connectivity. The new audio development board achieves acoustic echo cancelation (AEC), while also being expandable with such peripheral devices as I2C, I2S and UART. ESP32-LyraTD-MSC consists of two development boards: the upper board with function keys and LEDs and the lower board which includes modules and chips.
ESP32-LyraTD-MSC specifications:
Wireless Module: ESP32-WROVER with 802.11 b/g/n, dual-core 240MHz CPU and 4.5 MByte SRAM
Wi-Fi and Bluetooth (Classic & Low Energy) connectivity.
Digital Signal Processing chip
Micro-SD card for storing audio files
Audio:
- Audio driver chip
- Earphone jack
- Dual speaker output ports
- Three-microphone array supporting up to three-meter sensitivity when playing music
Expansion:
- I2C/SPI header
- 6-pin UART header
- I2S header
Debugging: USB-UART micro-USB interface and JTAG header
Power Supply: 5V via micro USB port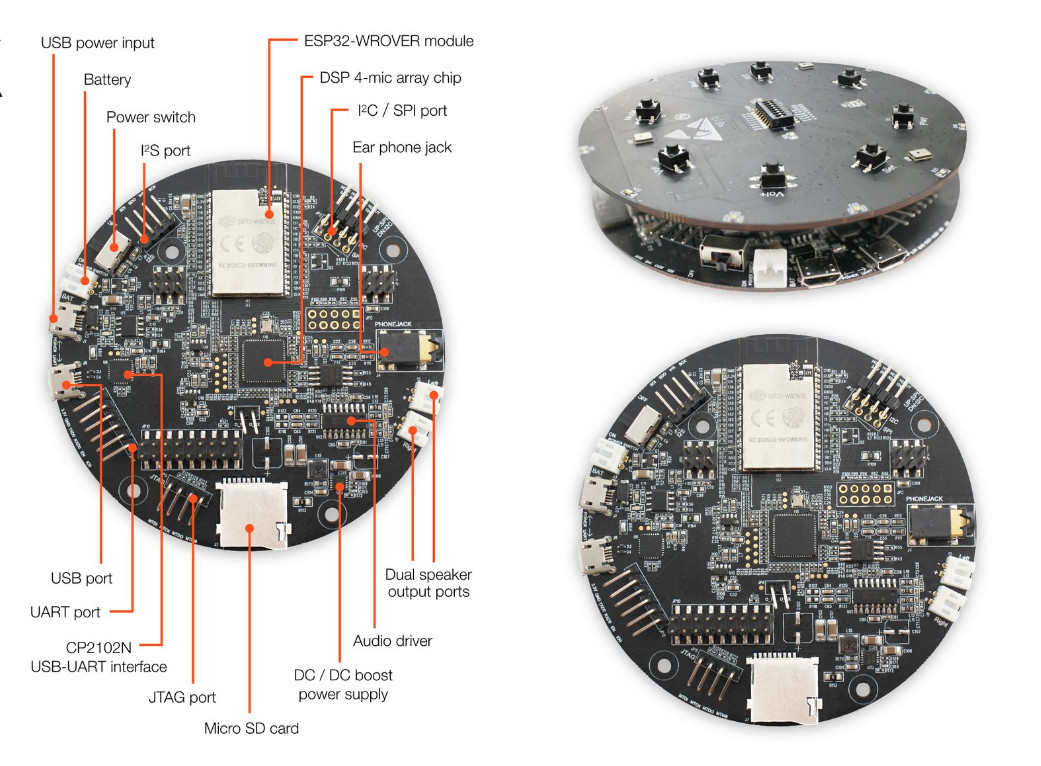 This audio development board can work over Wi-Fi and Bluetooth (Classic and Low Energy), supporting all major cloud voice vendors, such as Amazon Alexa, Google Assistant and Baidu DuerOS. Soft decoder and keyword recognition run directly on the ESP32 processor, targeting smart speakers, wireless audio and other home appliances.
News

Espressif Systems and Amazon Web Services have brought the Amazon FreeRTOS-qualified ESP32 to the IoT market.

News

Espressif announced today that it has received investment co-led by Intel Capital and Beijing Singularity Power Investment Fund L.P. (SPC).

News

Our international ESP32 Design Contest, jointly organized with Elektor, yielded high quality entries which won awesome hardware prizes.