news
New Espressif Module ESP32-SOLO-1
Shanghai, China
Jul 5, 2018
New powerful WiFi+BT/BLE module to hit the market soon.
ESP32-SOLO-1 is a powerful wireless module combining Wi-Fi and Bluetooth (classic and low-energy) connectivity. ESP32-SOLO-1 is suitable for a wide variety of applications, ranging from low-power sensor networks to voice encoding, music streaming and MP3 decoding.
At the core of this module is the ESP32-S0WD chip, which is a member of the ESP32 series of chips. ESP32-S0WD has a single core, although it is still capable of getting connected to all the peripherals of its dual-core counterparts. ESP32-S0WD offers great value for money, having a highly stable performance in various complex IoT applications.
ESP32-S0WD Specifications
SoC: ESP32 with a single-core, low-power Xtensa 32-bit LX6 microprocessor

448 KB of ROM for booting and core functions

520 KB of on-chip SRAM for data and instructions

16 KB of SRAM in RTC

QSPI flash/SRAM up to 4 × 16 MB

Power supply: 2.3V to 3.6V

SPI, I2S, I2C, SDIO, UART, IR, PWM

Temperature sensor, touch sensor, ADC, DA

Connectivity: Bluetooth (Classic & Low-Energy) and Wi-Fi b/g/n dual mode
The combination of Wi-Fi with Classic and Low Energy Bluetooth ensures unparalleled connectivity in different application scenarios. Wi-Fi enables internet connectivity over a large area, while Classic Bluetooth allows users to securely connect ESP32-SOLO-1 to their mobile phones for exchanging data over short distances by using short-wavelength UHF radio waves. Additionally, ESP32-SOLO-1 can function as a beacon, broadcasting its identifier via Bluetooth Low Energy to portable electronic devices within a maximum radius of 50 meters.
The sleep current of the core chip in ESP32-SOLO-1 is less than 5 μA, which makes the module suitable for battery-powered applications and wearable electronics. The module supports data transfer at 150 Mbps, while having an output power of 20.5 dBm at the antenna. Several peripherals facilitate integration with other electronic devices, thus offering industry-leading specifications and great performance.
ESP32-SOLO-1 Specifications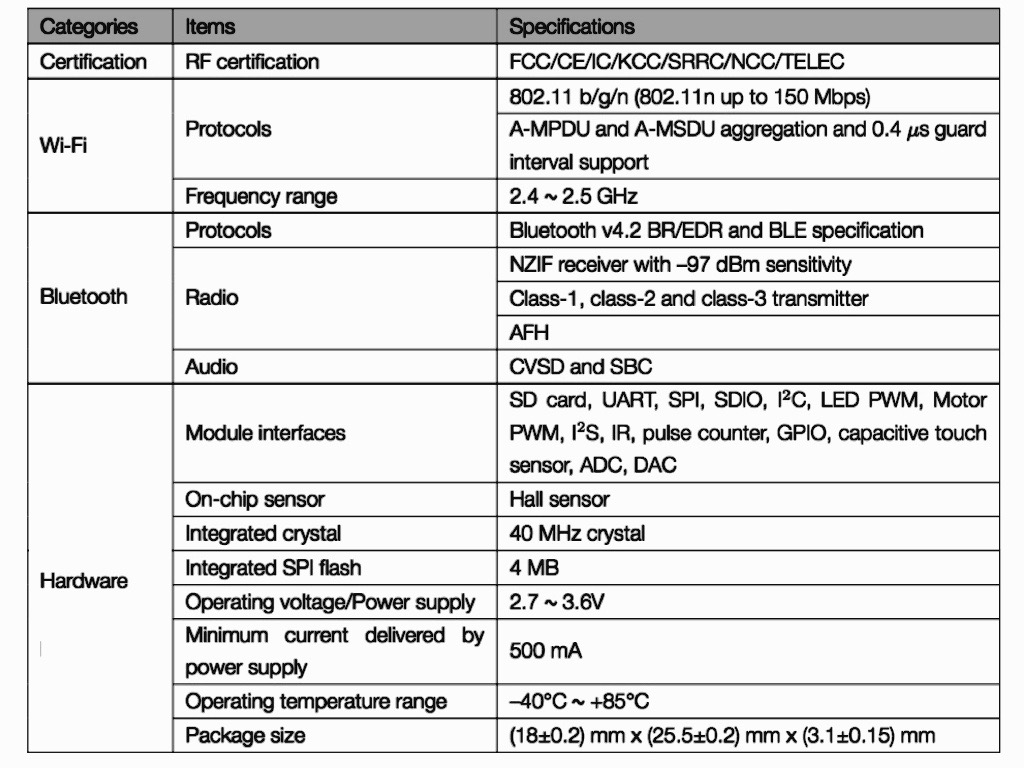 The operating system of the ESP32 chip is FreeRTOS with a light-weight Internet Protocol (LwIP). Transport Layer Security (TLS 1.2) with hardware acceleration is built-in as well. Secure (encrypted) over-the-air (OTA) upgrade is supported, allowing developers to upgrade their products, even after their initial release, with little effort at minimal cost.
News

Gartner's 2018 report says: "Espressif has grown beyond our expectations, and it is clearly maturing as a mainstream vendor".

News

New powerful WiFi+BT/BLE module to hit the market soon.

News

The event took place in San Francisco and was attended by an enthusiastic audience of embedded engineers, firmware developers and cloud developers.