news
"Empathy Swarm": A Science-and-Art Project Sponsored by Espressif
Reporting from Shanghai, China
Mar 5, 2019
"Empathy Swarm" examines how non-anthropomorphic robots can learn, but also instigate, feelings of empathy and compassion.
Katrin Hochschuh and Adam Donovan met in 2016 through a mutual network of artists, architects and researchers in Zurich, Switzerland. Katrin has an architectural background in digital design and robotic fabrication, exploring architectural geometries, algorithms, swarm simulation and interactivity. Adam's work combines scientific acoustics and robotics with the visual arts. He has been researching this area since 1996, with the purpose of transforming it into an artistic medium. As a duo, Katrin and Adam have exhibited their work in Australia and Europe at major festivals.
Currently, they work on "Empathy Swarm", a project co-funded by the Australian government and the European Union, which explores non-anthropomorphic swarm-robot behavior, using emotion recognition reinforcement. Katrin and Adam have created sophisticated robotic mechanisms that can interact with humans, and have explored the ways in which this interaction yields feelings of empathy and compassion. You can find out more about Katrin and Adam's current project here and you can also watch a video about it here.
A few months ago, Katrin and Adam contacted Espressif, making enquiries about the possibility of a hardware sponsorship. Espressif always supports innovation and creativity, so the company's response could only be positive. As a result, their project is now based on the ESP32 technology and, more specifically, the ESP32-WROVER-B (IPEX) and the ESP32-PICO-D4 modules. ESP32-WROVER-B (IPEX) is a powerful Wi-Fi-and-BT/BLE module supporting a wide variety of applications that range from low-power sensor networks to the most demanding tasks, such as voice encoding, music streaming and MP3 decoding. ESP32-PICO-D4 is a System-in-Package (SiP) module that seamlessly integrates such peripheral components as a crystal oscillator, flash, filter capacitors and RF matching links, into a single package.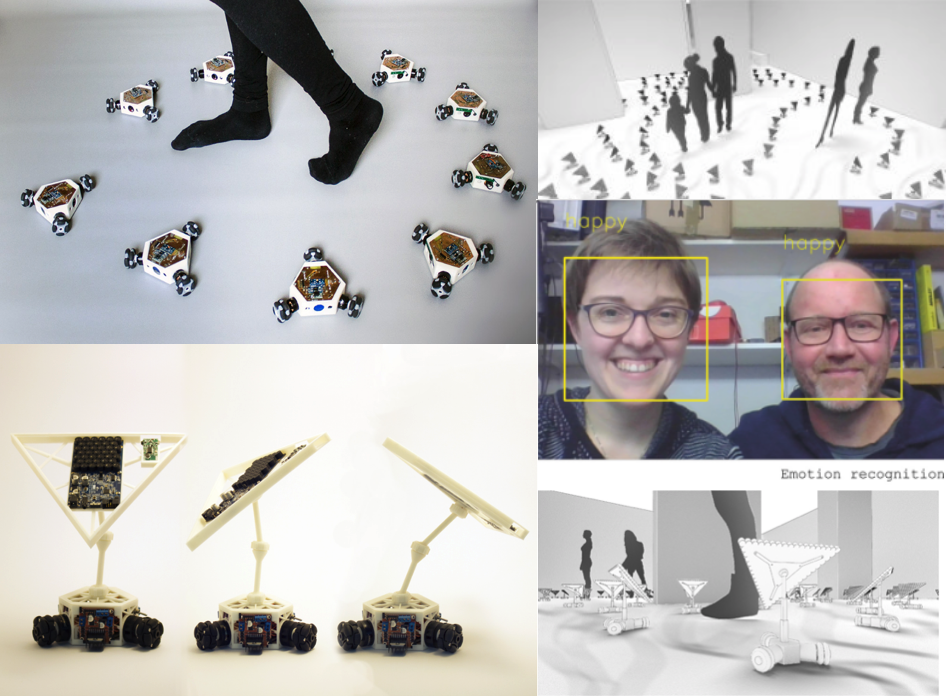 "Empathy Swarm" is a two-year project which aims to demonstrate that non-anthropomorphic robots (the opposite of humanoid robots like the famous "Sophia") can also learn and produce feelings of empathy and compassion. Katrin and Adam use emotion recognition via camera tracking and devise social tests with participants in order to develop formations, animations and behaviors that emanate from the interaction between human beings and the swarm robots. The goal is to show that machines can instigate compassionate responses through the use of deep learning.
"Empathy Swarm" will be presented on March 15-17, in Düsseldorf, Germany, at the Meta Marathon 2019, a robotics event that aspires to leave the classical framework of a conference far behind, inviting all participants to stay overnight in the venue (NRW-Forum) and transform it into an art-and-science laboratory for a whole weekend. Next, the "Empathy Swarm" duo has been selected to participate in the 18th Media-Art Biennale, WRO 2019, which is Poland's largest show of international contemporary art. From mid-May till the end of the year, a series of WRO 2019 events will explore the complexity of the current relationship between human and technological aspects of life. Later, "Empathy Swarm" will be presented in Brisbane, Australia, at Robotronica, one of the world's largest festivals on technology and science.