news
Espressif Products at "electronica 2018"
Reporting from Shanghai, China
Dec 4, 2018
Espressif products were presented by Macnica last month at the 2018 electronica, the biggest gathering of the electronics industry in Europe.
The 2018 electronica attracted 80,000 trade visitors from over 80 countries. During this four-day event, applications, live demos and a jobs fair provided insights into the world of electronics and its careers. The main topics of this year's electronica included blockchain, artificial intelligence and medical electronics. On the fair's first day, eminent industry representatives discussed the importance of artificial intelligence to the future of electronics. At the CEO round table, the need for a sustainable approach to the future of artificial intelligence was emphasized. Additionally, physicians and electronics engineers discussed the future of medicine at the electronica Medical Electronics Conference (eMEC), which was devoted to the topic of medical electronics and the networking between electronics engineers and physicians.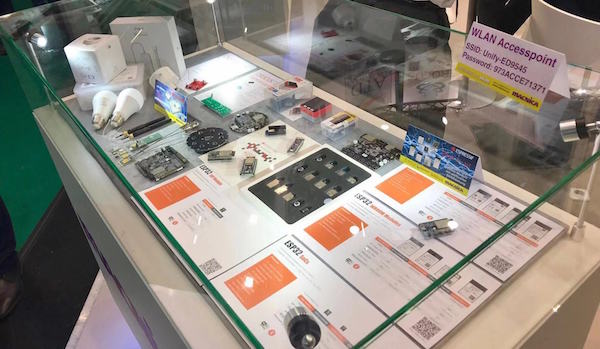 Espressif products in Macnica's booth at "electronica 2018"
At the same time, Espressif products were presented by Macnica, Espressif's European distributor, to thousands of visitors. ESP32-LyraTD-MSC and ESP-Mesh had a central position in Macnica's booth. ESP32-LyraTD-MSC is designed for smart speakers and AI applications. It implements voice interaction and cloud-on-demand services in smart-speaker applications, as well as human-machine interaction and image recognition in AI applications. ESP-Mesh is Espressif's wireless networking technology which is ideal for the secure and stable connection of multiple devices forming a network that spans large areas.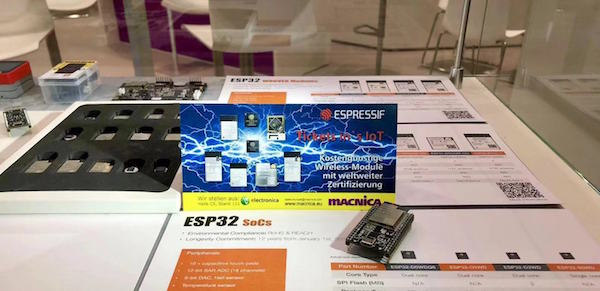 Espressif products in Macnica's booth at "electronica 2018"
Macnica was established in 1972 as a semiconductor distribution company headquartered in Yokohama, Japan, and now has over 65 sales offices worldwide in eastern Asia, Europe and the USA. Macnica's European headquarters were originally established in the UK in 2006, and moved to Germany in July 2008, in order to increase the effectiveness of its service for European customers. Macnica is famous for having an excellent engineering team of more than 800 application support engineers, IC designers and software developers providing technical support and custom design services to its customers.