news
WiFiBoy32
Shanghai, China
Aug 31, 2018
WiFiBoy32 is a portable game console and IoT DevKit based on Espressif's ESP32-WROOM-32 module!
Espressif's ESP32-WROOM-32 module provides a complete solution for advanced IoT applications. It achieves outstanding performance with a wide range of peripherals and a combination of Wi-Fi and BT/BLE connectivity. Despite its small size, measuring 25.5 mm × 18 mm × 3.1 mm, the module contains not only the ESP32-D0WDQ6 chip, but also flash memory, precision discrete components and a PCB antenna, achieving great RF performance in space-constrained applications.
No wonder why, then, ESP32-WROOM-32 has been truly popular and has been at the heart of various different projects, ranging from weather stations to wearable cigarette lighters. Developer Derek Lai took his ESP32 to design a portable game console that doubles as an IoT development kit, which he named WiFiBoy32.
WiFiBoy32
WiFiBoy32 specifications
Wireless module: ESP32-WROOM-32 wireless module with 802.11 b/g/n WiFi and Bluetooth 4.2 LE connectivity
Display: 2.4″ 240×320 color SPI TFT LCD display
Expansion: 2x 8-pin through holes with GPIOs, SPI, DAC, I2S, ADC, VP/VN, and power signals (3.3 V, Vin, GND)
Miscellaneous:

Top: 6x large gaming buttons, select and start push buttons, buzzer
Bottom: PROG and RESET buttons, user LED

USB: 1x micro USB port for power and programming (CP2102)
Dimensions: 120 x 73 mm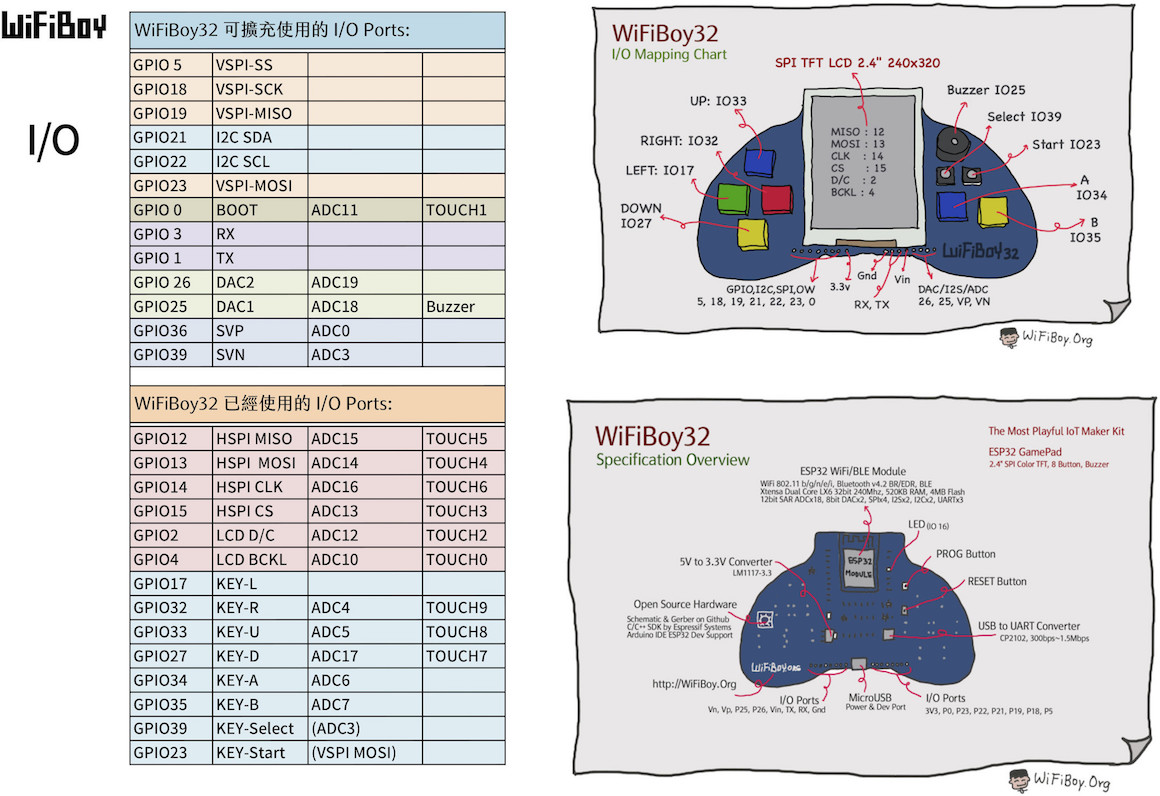 WiFiBoy32 specs
The board can be programmed with the Arduino IDE, MicroPython or the visual drag-and-drop Python Blocky. Users can find some Arduino tutorials, with downloadable source code for various games, etc. However, on the WiFiboy Club website most information is only available in Chinese. WiFiBoy32 is partially open-source hardware, with its PDF schematics and mechanical design (DXF) files already released.
One particularly interesting how-to guide gives information on how to use WiFiBoy32 as a remote controller for a lightweight drone, called Tello. Weighing less than 100 grams, yet being extremely safe and stable, Tello is ideal for beginners and can be operated even indoors.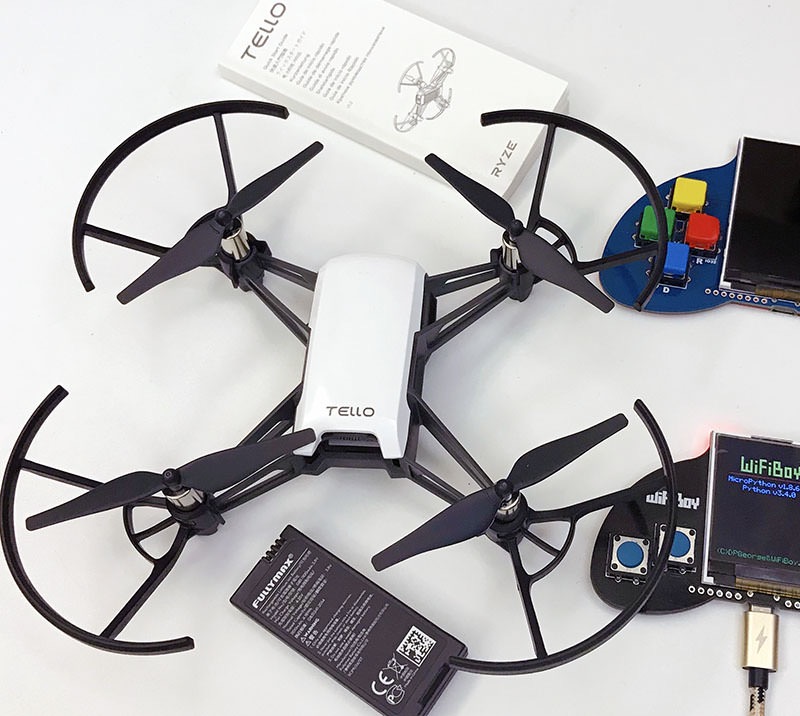 Tello: a lightweight drone operated by WiFiBoy32