news
ESP32-based Smart Devices Win Innovation-of-the-Year Award in India
Reporting from Shanghai, China
Oct 31, 2019
Sirena Technologies Private Limited, a partner company of Espressif's, won the "Alexa Voice Service - Innovation of the Year" award at last month's Alexa Vox Conference in New Delhi, India.
The Alexa Adaptor and Smart Speaker are two award-winning smart voice products, both of whom use Espressif's ESP32 chip. Compared with the traditional Linux-based design, the reference design based on Espressif's ESP32 chip and the ESP-IDF operating system guarantees a very economical bill of materials, which greatly reduces the cost of designing smart speakers and shortens their time to market.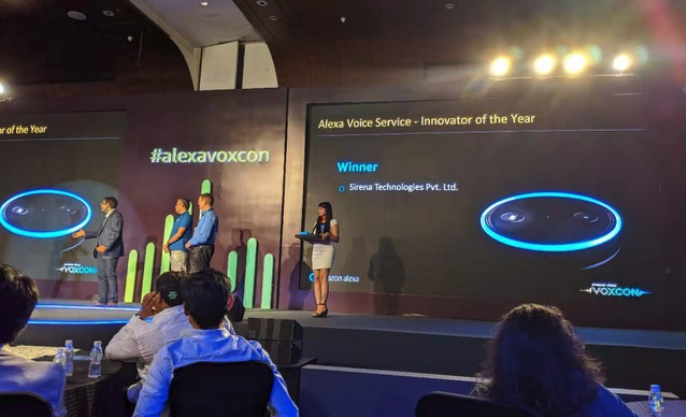 Alexa VoxCon Awards
Alexa, released by Amazon, is a voice-controlled smart assistant, which can play music, make to-do lists, set alarm clocks, stream podcasts, play audiobooks, and provide weather, traffic, sports and other real-time information. Alexa Voice Service allows developers to set voice-controlled features on connected products via microphones and speakers. Once integrated, these products have access to all the Alexa built-in features, as well as third-party characteristics developed with the Alexa Skills Toolkit.
Sirena Technologies' Alexa Adaptor and Smart Speaker use Espressif's ESP32-LyraTD-DSPG audio development board, which has a DBMD5P DSP chip and three microphones. In addition to Alexa's multi-round conversation system and other advanced features, the Alexa Adaptor also supports external amplifiers which can stream music, while the Smart Speaker can also play music on smartphones.
The ESP32 chip was connected to Alexa Voice Service in September 2018, supporting all products in Espressif's LyraT series, which is built upon ESP32-LyraTD-DSPG, an ESP32-based audio development board. With a DBMD5P DSP chip inside, this board provides Acoustic Echo Cancellation (AEC), and can be used for speech recognition, near-field or far-field speech wake-up and other application scenarios. This board also supports the lossless encoding and decoding of multiple audio file formats, such as WAV, MP3, AAC, FLAC, OPUS and OGG. ESP32-LyraTD-DSPG also supports Amazon's AVS (Alexa Voice Service), Google's Dialogflow and GVA (Google's Voice Assistant) services.
Learn more about Espressif's Alexa SDK by visiting our website.