news
ESP32 Launched Into Space
Reporting from Shanghai, China
Oct 31, 2019
ESP32 has been used in a research project at the German Aerospace Center, developing a new commercial off-the-shelf on-board computer platform for sounding rockets.
Espressif's flagship chip, ESP32, has recently been used in an experiment launched by MORABA (Mobile Rocket Base) at the German Aerospace Center (DLR). Nico Maas, the leading author of the resulting research article, has explained the objectives of this project:
"In order to supersede the aging Microchip ATMEGA328P as the de facto standard for Commercial off-the-shelf (COTS) On-Board Computers (OBCs) with a more powerful system for different kinds of high-speed sensors and image acquisition applications, we developed advanced processors, encryption, and security experiment (apex). The platform consisting of a newly developed OBC using COTS components has been flight-tested during the ATEK/MAPHEUS-8 sounding rocket campaign. The main advantages of the apex OBC lies in the speed and simplicity of the design, while maintaining operational security with a redundant master-master microcontroller system, as well as dual flash storage within each master. Additionally, a single board computer with a containerized and failure-resistant Operating System (OS) (balenaOS) was included to allow usage of a high-definition camera or other more compute-intensive tasks. The bench and flight tests were performed successfully and already showed feasible ways to further improve operational performance."
More specifically, the apex project consisted of a Raspberry Pi Zero with an attached high-definition camera, two ESP32-PICO-D4 micro-controllers, and an array of sensors connected via an I²C bus. The system additionally had a connection to the service module of the vehicle in order to receive LO (lift-off), SoE (start of experiment) and SoDS (start of data-storage) signals and act upon them as required.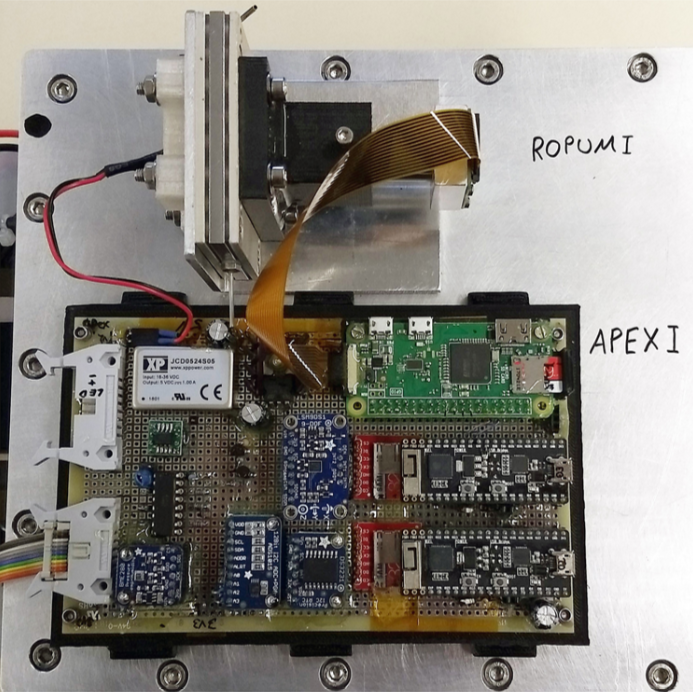 The apex OBC, with the two ESP32-PICO-D4 micro-controllers in the lower right-hand corner. Image credit: Nico Maas
It should be stressed at this point that, with its ultra-small size (7 × 7 × 0.9 mm), robust performance and low-energy consumption, ESP32-PICO-D4 is an ideal choice for any space-constrained or battery-operated applications. The ESP32-PICO-D4 is a System-in-Package (SiP) module that is based on ESP32, providing a combination of Wi-Fi and Bluetooth connectivity, while integrating a 4-MB SPI flash. Additionally, ESP32-PICO-D4 seamlessly integrates such peripheral components as a crystal oscillator, flash, filter capacitors and RF matching links in a single package. Given that no other peripheral components are involved, module soldering are not required. Thus, ESP32-PICO-D4 reduces the complexity of supply chain and improves control efficiency.