news
ESP32-Powered FPV Car
Reporting from Shanghai, China
Mar 5, 2019
This ESP32-based FPV car enables colored video-streaming over Wi-Fi, while running on a small LiPo battery and being controlled accurately from any web browser.
Maximilian Kern has recently created a fun project with a simple and smooth design. It is actually a remote-controlled car, with all of its components soldered to a custom PCB, which makes the whole design as compact as possible. More specifically, it is an FPV (or first-person view) car, where FPV denotes the method of navigating this remote-controlled vehicle with the help of a mini camera attached to driver's seat. Maximilian's FPV car has a variety of different features. For example, it enables video-streaming over Wi-Fi, runs on a small LiPo battery and can be controlled accurately from any web browser.
Features:
3D-printed chassis
Analog control with a websocket interface
Low latency streaming (~100 ms) at 160x120px
Custom PCB
3.7 V LiPo battery
Micro-USB for programming and charging
The ESP32-WROOM-32 module is at the heart of this project. Being a very powerful microcontroller, the ESP32 module requires no app and can be controlled from any PC or mobile device that has a web browser. Unlike other browser-based robots, the web interface here uses a virtual analog stick which works accurately with any touchscreen or mouse. Even keyboard input is accepted.
At 160×120 resolution, the video is not of an amazing quality, but being streamed from the ESP32 module at a decent frame rate, which enables the navigation of the car over a simple web interface, is impressive. The FPV car can be used in access-point mode or it can connect to an existing Wi-Fi router. A single cell LiPo battery powers the car and can be recharged from a micro-USB port, which is also used for programming ESP32. Additional features include temperature- and battery-voltage monitoring and a bright LED output.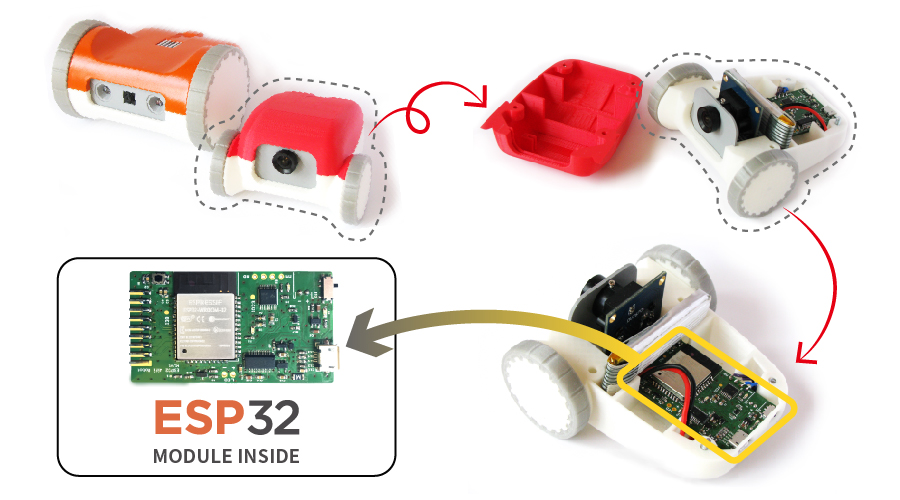 All the details about this 3D-printed ESP32-powered video- streaming bot can be found here. Readers can also find a demo video here.