news
Espressif's ESP32-based Internet Phone Solution
Shanghai, China
Nov 22, 2019
Espressif has just released an Internet Phone solution, which is based on ESP32 and VoIP, but also functions as an example of how to operate voice-controlled devices.
Espressif has just released an Internet Phone solution based on ESP32. The technology on which this solution relies is the Voice over Internet Protocol (VoIP), which facilitates the transmission of voice and multimedia content over the Internet.
VoIP has historically referred to the use of an Internet Protocol (IP) for connecting private branch exchanges (PBXs), but the term is now used interchangeably with IP telephony. What practically this means is that VoIP uses codecs to encapsulate audio into data packets, transmit those packets across an IP network and "unencapsulate" the packets back into audio at the other end of the connection.
More specifically, our ESP32-based solution uses VoIP to encode and compress recorded data, which are then packaged, according to the TCP/IP standard, and transmitted over an IP network. This way, ESP32 carries out a voice call over the Internet.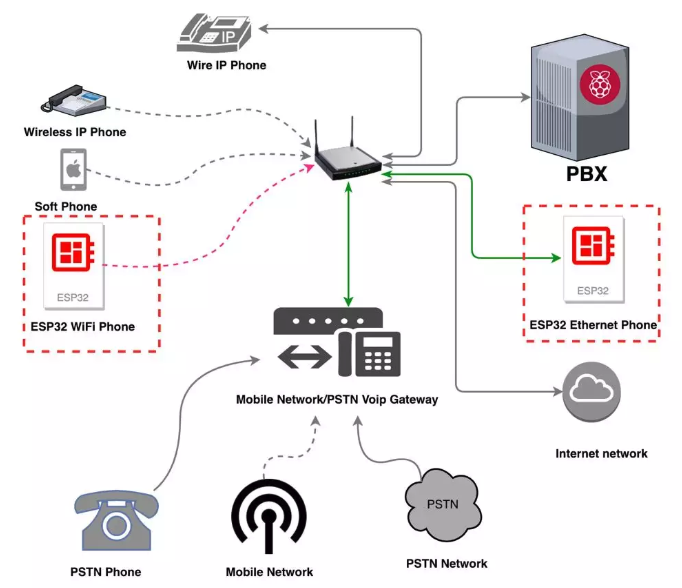 For the purposes of this particular solution, Espressif's Audio Team has worked with China Mobile, which has contributed And-link to this solution. And-link is an interoperability protocol for accessing China Mobile's Smart-Home ecosystem. In other words, And-link functions as a bridge between ESP32 and the other person that the user wants to call over the Internet, regardless of whether that other person is using a PC, tablet, smartphone or landline.
What Espressif offers here is a really cost-effective solution with great performance. As shown in the diagram below, Espressif's solution performs dual-channel acoustic echo cancellation (AEC) and noise reduction, which makes human-machine voice interactions smoother.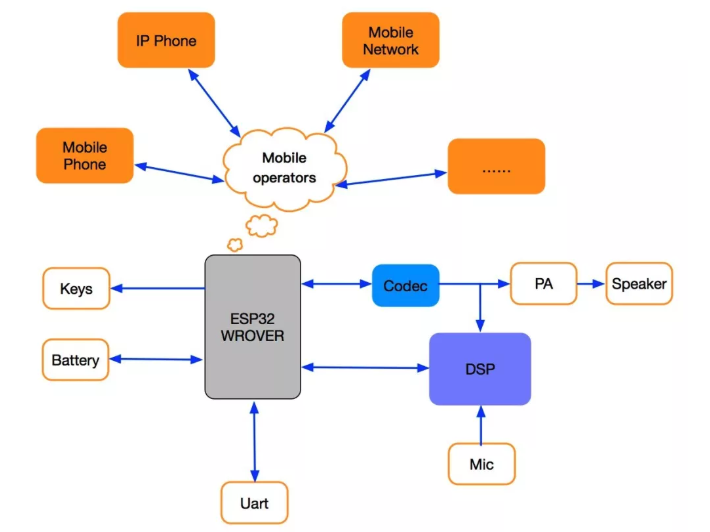 Additionally, due to the ESP32 technology, Espressif's Internet Phone solution sets an example of how to operate voice-controlled devices. To this end, it supports voice wake-up, voice interaction, voicemail service, music on demand, etc. So, if you feel like listening to your favorite song after a phone call with a friend, just use your voice and ask our application to do this for you. Espressif's ESP32 technology is here not only to bring you closer to your friends and family, but also to uplift your spirits!
The ESP32 module used in our versatile Internet phone solution is ESP32-WROVER-B, a 2.4 GHz Wi-Fi-and-Bluetooth combo chip, with a dual-core processor. Having integrated TSMC's 40 nm technology, ESP32 has a high RF performance, stability, versatility, reliability and ultra-low power consumption, which makes it the SoC of choice for various application scenarios. Our chip's main characteristics are:
Xtensa® 32-bit LX6 dual-core processor


Up to 600 DMIPS


520-KB SRAM and 448-KB ROM


2.5 μA low-power sleep 


Rich set of peripherals, including I2C, I2S, UART, SPI, SDIO, ADC.