news
Espressif Celebrates Its IPO
Shanghai, China
Jul 26, 2019
Espressif celebrated its successful Initial Public Offering on Shanghai's Stock Exchange on July 22.
On Monday, July 22, Espressif Systems stood out among the 25 companies that debuted on the Sci-Tech Innovation Board (STAR) of the Shanghai Stock Exchange by setting its initial public offering price at CNY 62.60 (USD 9.10) per share.
Espressif's successful IPO marked the beginning of a new era for the company and was deemed a worthy cause for celebration. Hence, all Espressif employees from its branches across China, India and Europe gathered at the luxurious Kerry Hotel in Pudong, Shanghai, to cheer for this new beginning.
Teo Swee Ann, Founder and CEO of Espressif Systems said on this occasion: "Espressif has been around for more than 10 years. A lot has changed over these years and one of the reasons we've reached this point today is because we never lost our optimism and perseverance in trying to achieve our goals. We shall continue with the same values and, as CEO of Espressif Systems, I moreover pledge that we'll continue developing AIoT technologies for the benefit of the entire society."
Mr Nick Washburn, senior Managing Director and Chief Operating Officer at Intel Capital was invited to Espressif's IPO celebration as a shareholder representative of Intel Capital. Mr Washburn said that "Intel Capital is excited to be supporting Espressif and celebrating this milestone with all of you. The working culture of Espressif has always been based on hard work and dedication to innovation. This resonates with our core values at Intel Capital."
Another high profile guest was from a company that is both an Espressif shareholder and client, Mr Pan Jiutang, partner in Xiaomi Group's Industrial Investment Fund, took to the stage to express his warm wishes to Espressif Systems for this "new journey" and exchanged commemorative gifts with Espressif's CEO, Mr Teo Swee Ann. They were later joined by Dr Zhang Liang'Sen, global partner of Fosun Group, and Mr Yan Yan from SAIF partners, who "praised Espressif's dedication to working for the benefit of society".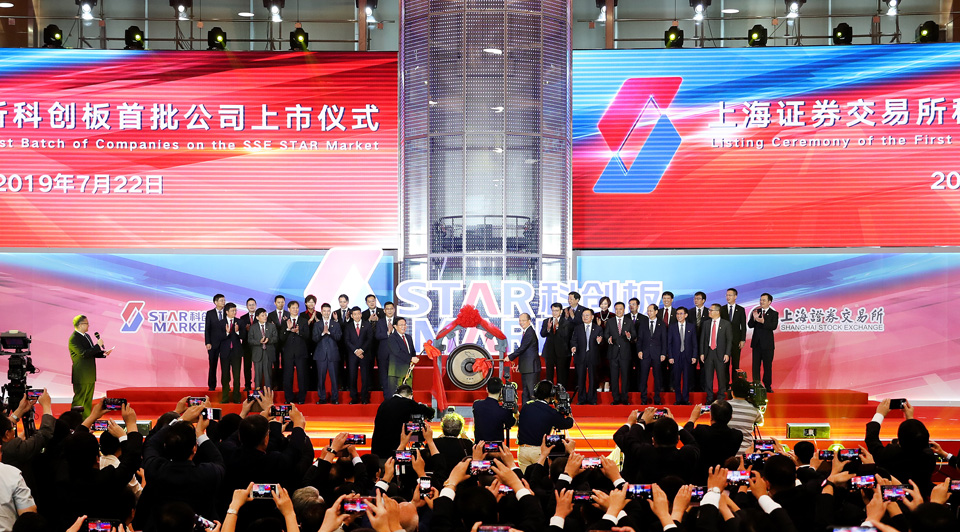 Debut ceremony of China's STAR market at the Shanghai Stock Exchange. Photo Source: english.gov.cn/state
On this celebratory note, Espressif also officially announced that its series of microcontroller units will soon be enriched with a new chip that provides further testament to the company's characteristic innovative spirit. On July 22nd, Espressif demonstrated its new ESP32-S2 series, where "S" stands for security, the ultimate prerequisite for any AIoT application nowadays.
ESP32-S2 is all about security, which is manifested in its four main characteristics: secure boot, flash encryption, digital signature and HMAC peripheral, as well as cryptographic accelerators, such as RSA, ECC and AES. Full details about ESP32-S2 will be announced on Espressif's website in due course. So, stay tuned!