news
Packed Out One-Day ESP32 Event in Thailand
Reporting from Shanghai
Feb 4, 2019
The one-day ESP32 event in Bangkok last weekend attracted a large number of makers, highlighting the huge popularity of ESP32 in Thailand.
A one-day event dedicated to ESP32 took place for the first time in Bangkok on 3rd February 2019. Several stimulating topics were presented in various panel sessions discussing the ways in which ESP32 can be deployed in "chat bot line notifications", "open-source computer vision and artificial intelligence", "home automation", "building game consoles", "multitasking", "hardware design", etc. Presentations were made by well-known local makers and lecturers who made sure that the numerous people who attended the event would find it both useful and fun at the same time.
Below is a list of the presentations that were included in the event.
13.00 -13.30 Dr. Chanon Tulababee: opening speech.
13.30 -14.00 Prasert Sakdej Udom, Narong Prasarnsak: "ESP32 Hardware Design from a Thai Developer's Perspective"
14.00 -15.00 Cheer Israipat: "IoT with ESP32"
15.00 - 16.00 Sittipong Chanasorn: "ESP32 IP Cam LINE Notification/ Indoor Positioning With BLE"
16.00 - 17.00 Anon Golful: "Building a Game Console with ESP32"
17.00 - 18.00 Nong Nooch: "Multitasking on ESP32"
18.00 -19.00 Chavalwit Poolsri LINE's IoT Platform and the BLE-enabled ESP32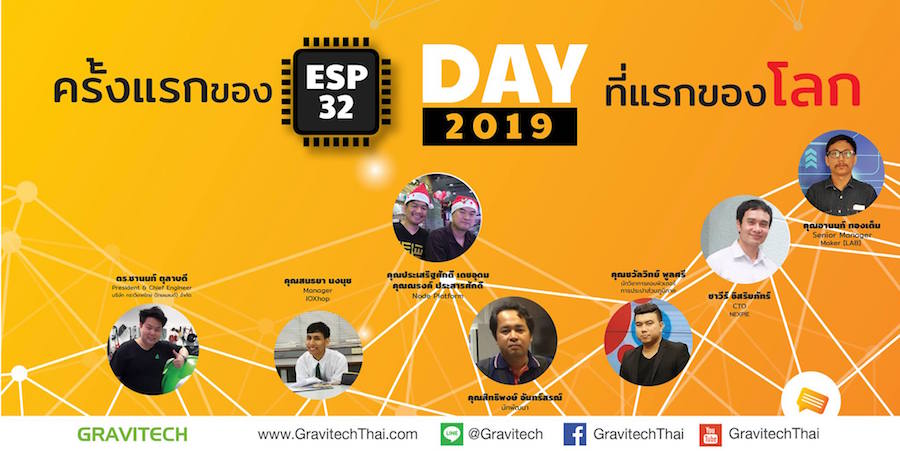 Photo taken from the event's host GravitechThai
The event took place at the "Home of Maker", which always provides the most friendly space in the heart of Bangkok for all makers and DIY electronics fans. The event was organized by GravitechThai, a popular supplier of commercial and industrial equipment in Thailand, whose mission is to promote electronics and innovation across the country.
It seems that ESP32 is gaining a strong foothold in Thailand, since the ESP32 day-event complemented the Thai ministry of Education's recent initiative to boost its STEM education, using ESP32. Last summer they launched KidBright32, a development board based on Espressif Systems' ESP32-WROOM-32 WiFi-and-Bluetooth module, which has been described as Thailand's equivalent to the BBC Micro:Bit.